I don't know why, but lately I've been having the hardest time staying warm while camping. I love sleeping out in the wilderness but waking up throughout the night and in the morning absolutely freezing can turn it into a different experience. Luckily for me, the Questar HD Sleeping bag is a three-season bag that fits into the scale of camping that I do. With a comfort rating of 31 degrees, I know I'll stay warm even when the temperature outside dips into the 30s. The Questar is made for both men and women and comes in a variety of sizes so you can get the perfect fit.
My favorite feature of the Questar is the Toe-asis™ foot warmer pocket. No matter how warm or cold it is outside, I find that my feet are always cold when I call it a night. I'm always throwing on the wool socks while Tyson looks at me in disbelief. He's sitting there sweating and I'm putting socks on. The Toe-asis™ foot warmer pocket is the perfect place to stash my cold toes and is one of the best ideas ever.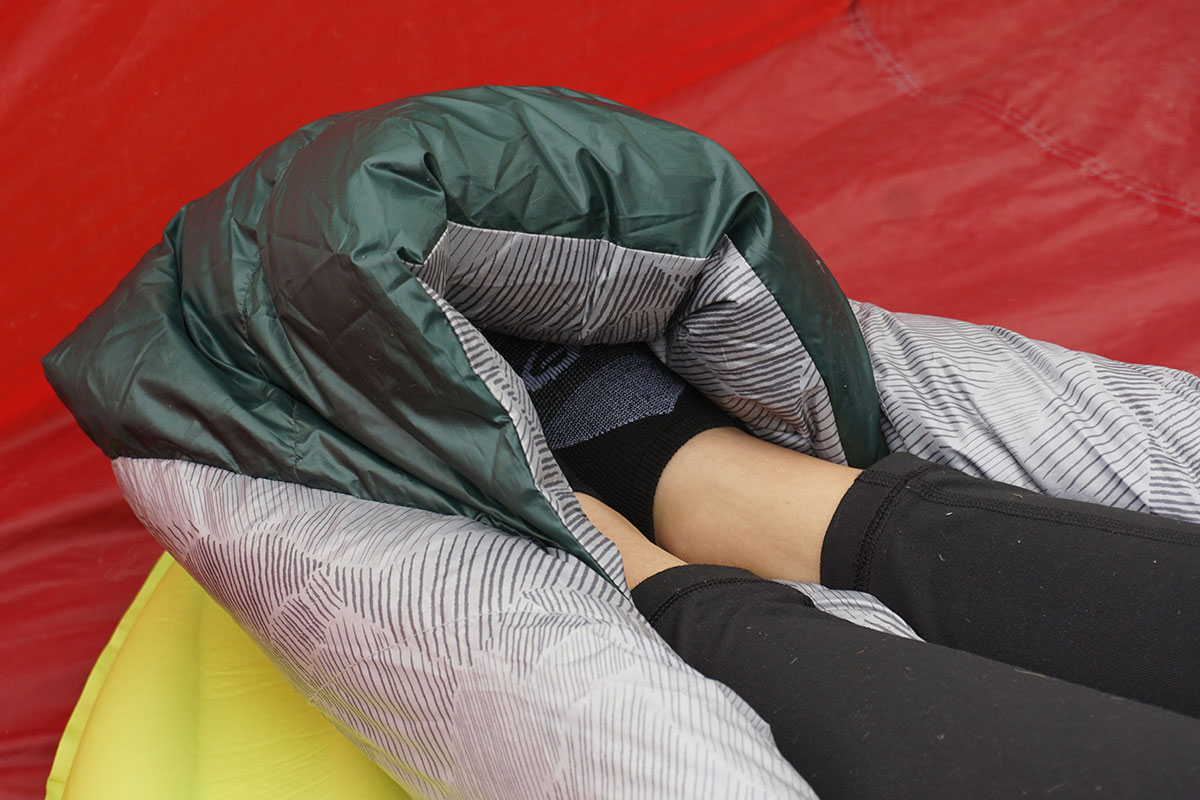 The SynergyLink™ Connectors are another feature of the Questar HD that I'm excited about. In the good old days, you would have to diligently stay centered on your sleeping pad throughout the night. No matter how little you flipped or flopped in your sleep, you'd always end up off of your sleeping pad in some form. The said body parts that ended up off the pad would be sore throughout the following day and you'd go to sleep that night telling yourself not to move an inch. Of course, sleeping you doesn't listen to awake you and so the cycle would begin again. Thanks to companies like Therm-a-Rest, this is no longer an ongoing battle we face every time we crawl into the tent. What I like about the SynergyLink™ Connectors is that while they keep your bag centered and in the general vicinity that it should be in, it doesn't totally restrict your movement.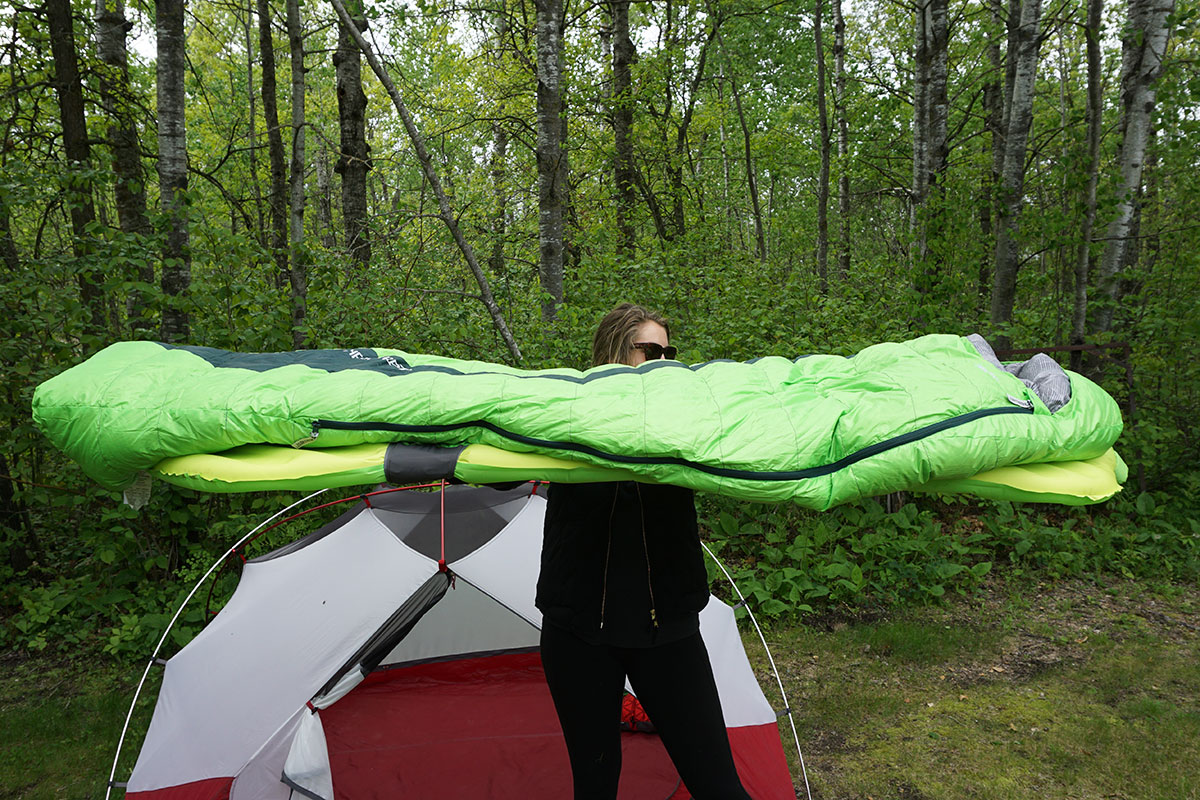 The integrated baffles throughout the bag help to keep the warm air in and the cold air out and definitely adds to the coziness of the bag as a whole. Not only does the cinchable hood cinch down so only your nostrils can bring in some oxygen, but the baffled edge fills any little open area where air could escape. The baffling continues down the zipper of the bag so you won't feel any drafts down your legs.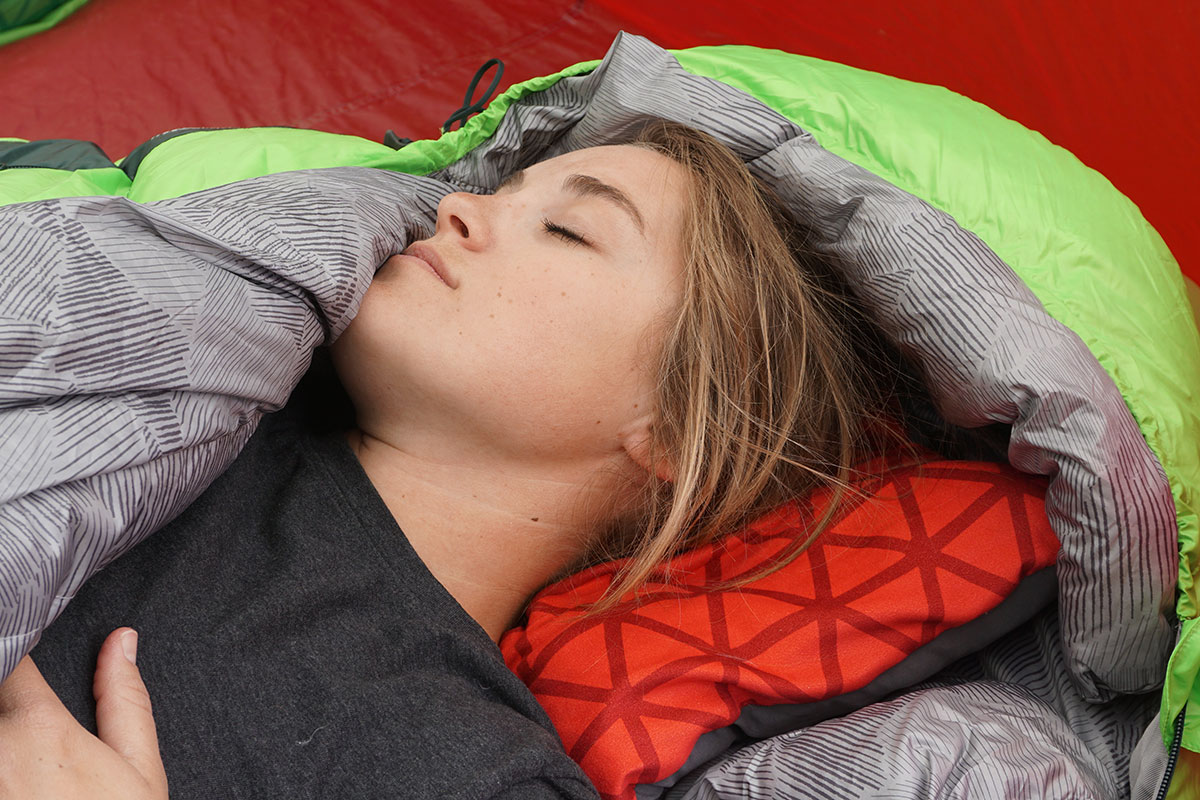 It's quite impressive that I can easily zip the bag open and closed and not have any snags. It's a smooth ride the whole way. Not many sleeping bags I have can claim the same fact and it's nice to not have to spend your energy and time un-snagging your bag.
Therm-a-Rest is using 650-fill Nikwax Hydrophobic down to fill the Questar and it is beneficial in many ways. The treated down is water-resistant so not only will your down not clump up when wet, it will dry 3 times faster than untreated down. Treated down retains loft even when wet so if you find yourself in the situation that just didn't go as planned, you wont feel like you're under a blanket made up of wet dog hair.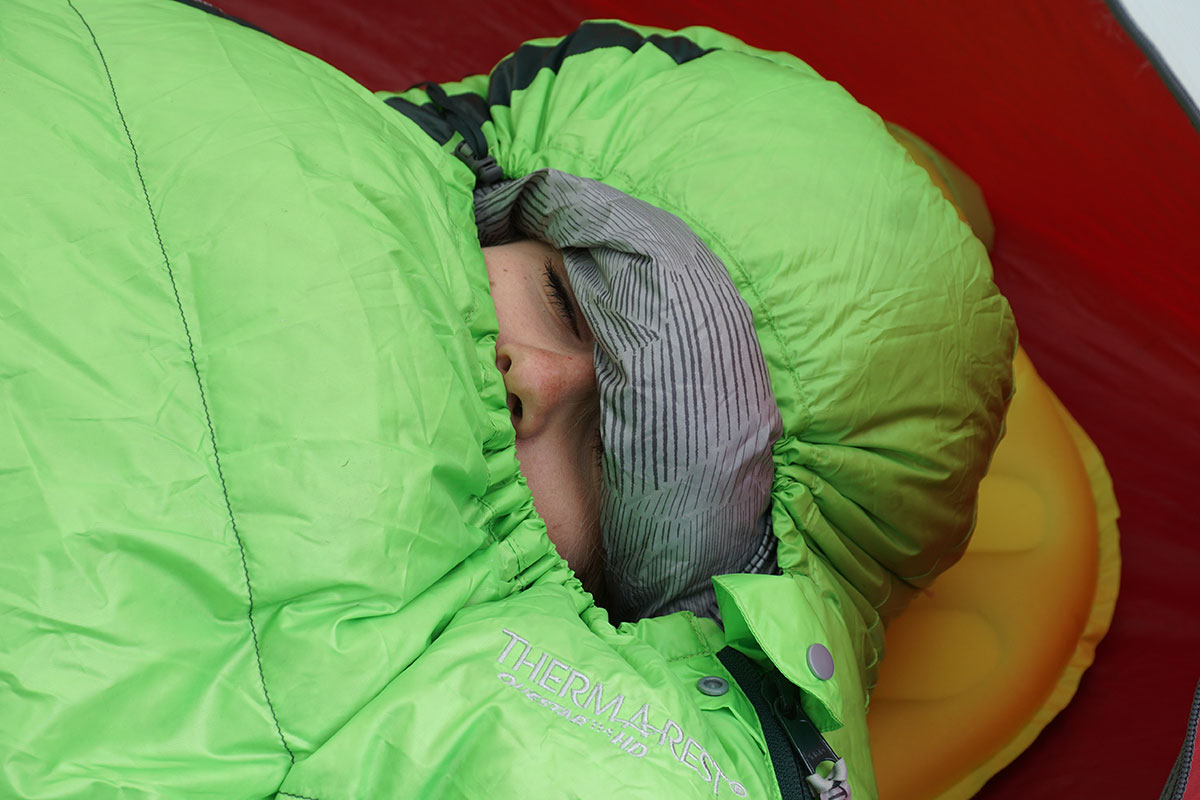 Whether you're camping above tree line, in the middle of the desert, or anywhere in between, the Questar HD will keep you cozy and comfortable through a range of environments. The Toe-asis™ foot box ensures you won't be falling asleep with frozen toes anymore. The Questar is roomy throughout so that you won't feel restricted (side sleepers can appreciate this!) but isn't overly big and baggy so that it is hard to heat. The SynergyLink™ Connectors keep you where you want to be throughout the night and eliminate waking up with a sore back or bum. To complete your sleep system, be sure to check out the Trail King SV sleeping pad and the Compressible Pillow by Therm-A-Rest. I didn't think sleeping in the wilderness could get any better but it's surprising what a comfortable and warm sleep system will do for you!