I didn't realize how important a pack like the Women's L.U.X.E. LR 14 by CamelBak would be until I completed some long distance rides this spring in Moab. Well, the rides were long distance for me (50+ miles) but probably normal distance for most mountain bikers. I wouldn't say I'm a particularly great mountain biker and I'm definitely a horrible packer, so heading out with an over-packed and uncomfortable backpack on those long rides caused a lot of back pain. When I first pulled the L.U.X.E. out of the box there were a lot of "ah-ha" moments and I instantly regretted not having it sooner.
For me, one of the most notable features on the L.U.X.E. is the fact that the weight sits low and the hip belt helps keep the pack stable throughout your ride. Whether I'm hiking or biking, it's obvious that carrying the weight of your pack with your waist/hips is 100 times better than with your shoulders. With my previous pack, there was no hip belt which is what caused my back pain. With the Low Rider (LR) features, I can assure that the weight will be carried with my hips and not my shoulders. I can over pack and it won't bother my back! One thing that I've noticed with the L.U.X.E. is that I feel like the size is just a bit off. I feel as though my torso length is pretty normal and yet the hip belt sits more over my waist/belly button than on my hips. That may be because I'm more used to a backpacking backpack that is especially designed to sit on your hip bones but I do feel like it is off. While the straps still help keep the weight off of the shoulders, I wish they sat more over my lower hips. With this, it is important to pay close attention to the CamelBak size chart!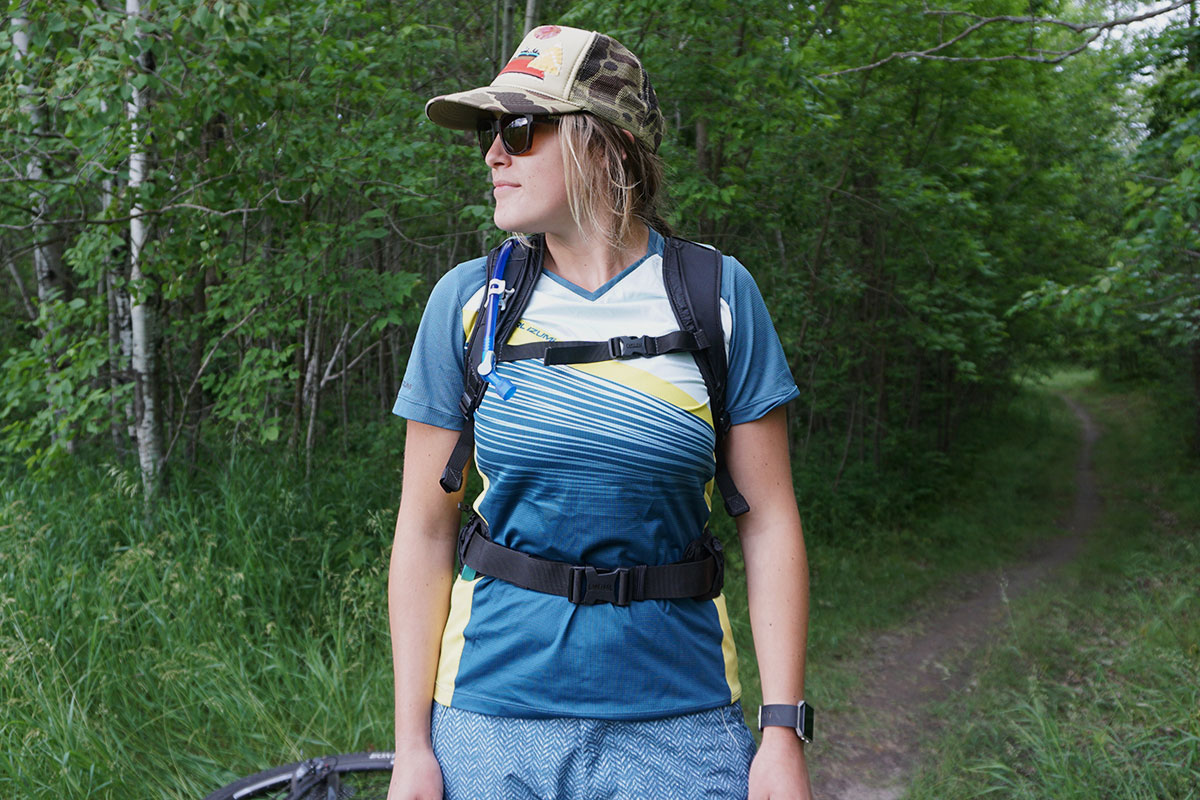 Not only is the waist/hip belt crucial in keeping the pack comfortable, they are also using a Lumbar Reservoir, which helps to keep the weight of your pack low and center. I no longer have to bring less water because I'm worried about the weight on my back. I can fill the entire reservoir and be set for the day. The included reservoir is a 3L or 100 ounce size.
Aside from the comfort of the Lumbar Reservoir, the L.U.X.E. will keep you organized throughout the day with it's many pockets and pouches. In combination with a helmet carry on the outside of the pack, there is also a microfleece-lined pocket for your media or extra sunnies. This will protect your important things from getting scratched in your pack. I will say that the helmet carry system is a little goofy and I feel like if you're intending to ride with a helmet strapped on, it moves around a lot and would get annoying over time. CamelBak has really outdone themselves by including both a tool roll and a rain cover. The tool roll is yet another way to stay organized. The rain cover is a major bonus for me especially because I'm usually carrying a camera of some sort and now I can do so in any weather without fear of it getting drenched. You can also keep your extra layers dry if you find yourself in a bit of a precipitation predicament.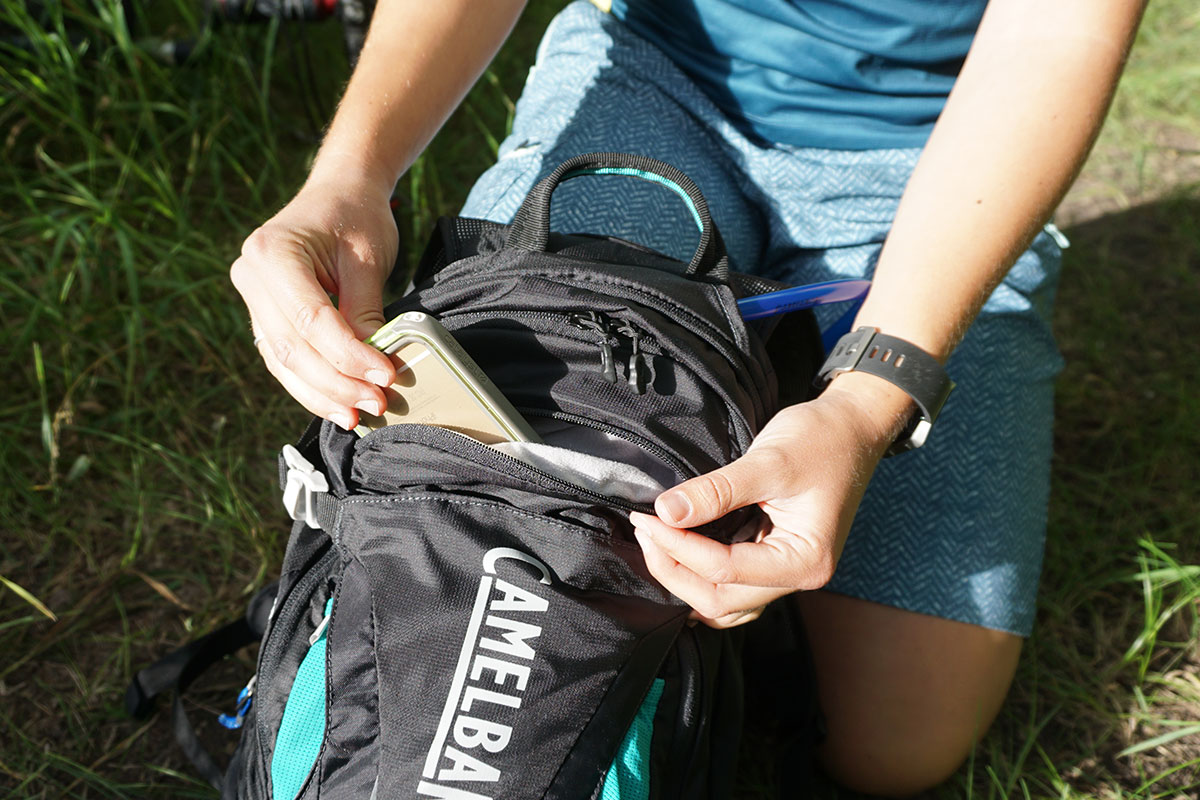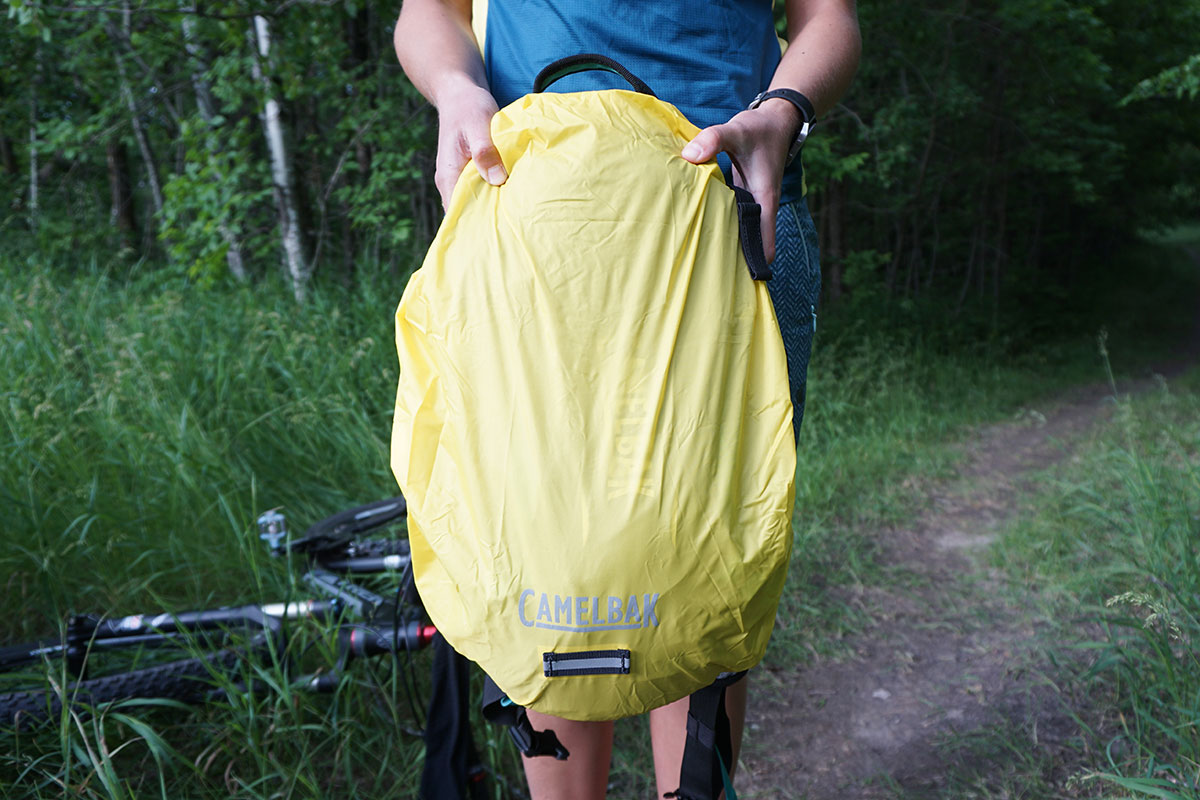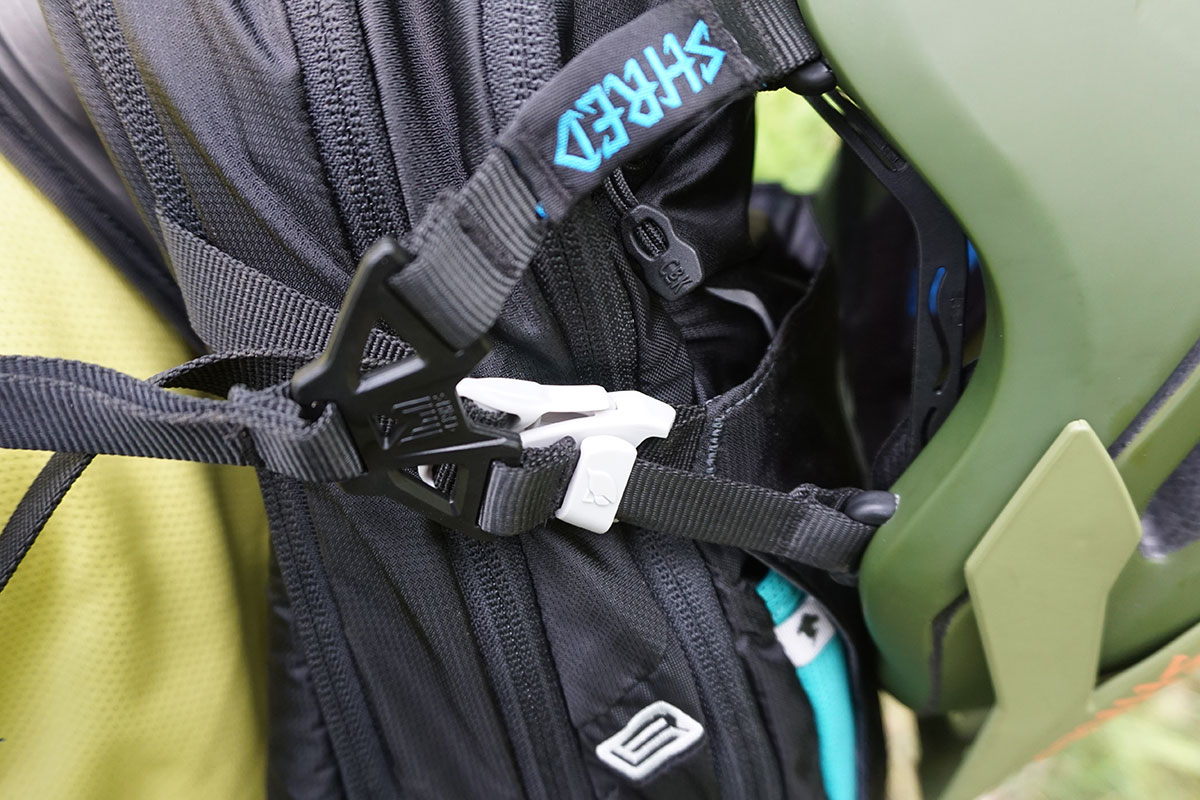 As I mentioned, I'm really great at over packing. I usually bring an extra layer (even if it's 80 degrees), way too many snacks, two different cameras (and end up only using my iPhone), and like 3 different maps. I know it's overkill but things happen and when that day comes everyone will be glad I have extra snacks. The 14L is the perfect size for all of my needs. I always say that I would rather have a larger pack and cinch it down than one that is too small. Whether you're heading out for a full day or just a short ride after work, this size will fit everything you need.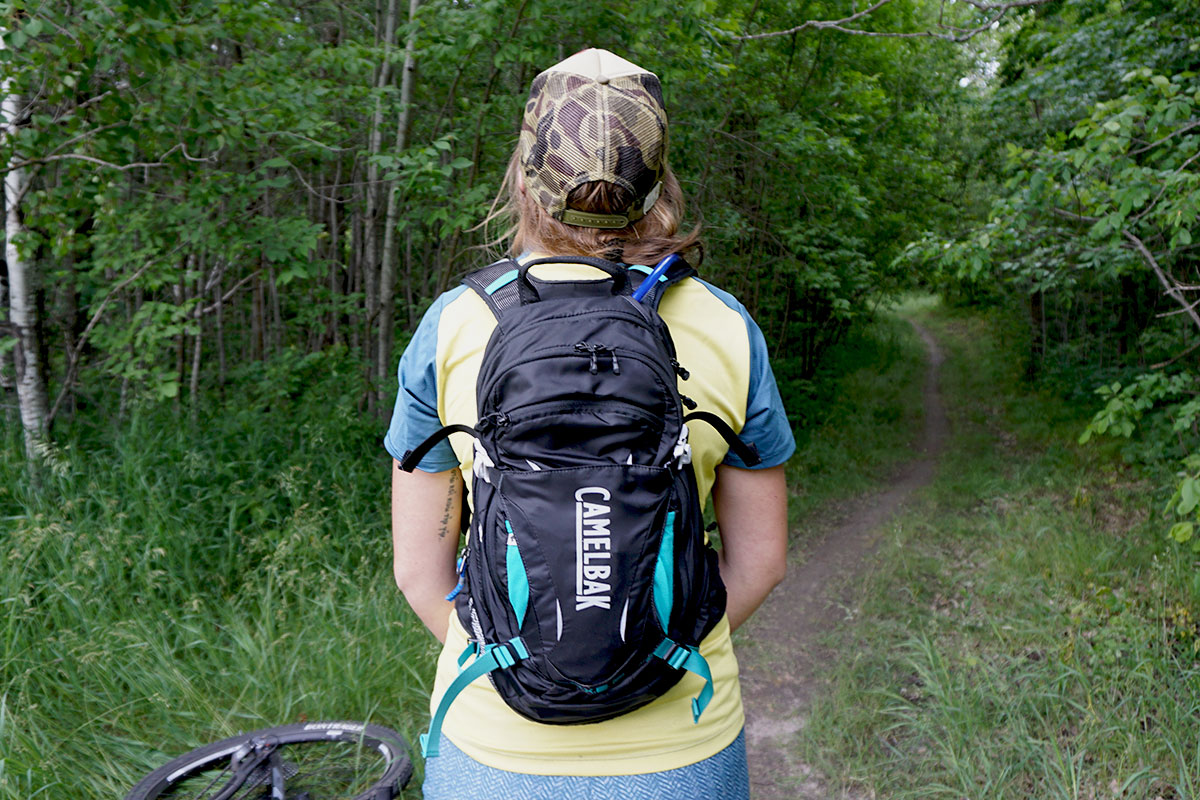 Even the separate reservoir compartment has an integrated compression system so as you drink your water you can condense the size down. Between the hip belt, sternum strap, and s-curved shoulder straps (which are also very comfortable) this pack stays in place no matter what kind of riding I am doing. Worry more about what you're about to drop into and less about whether your pack will stay in place.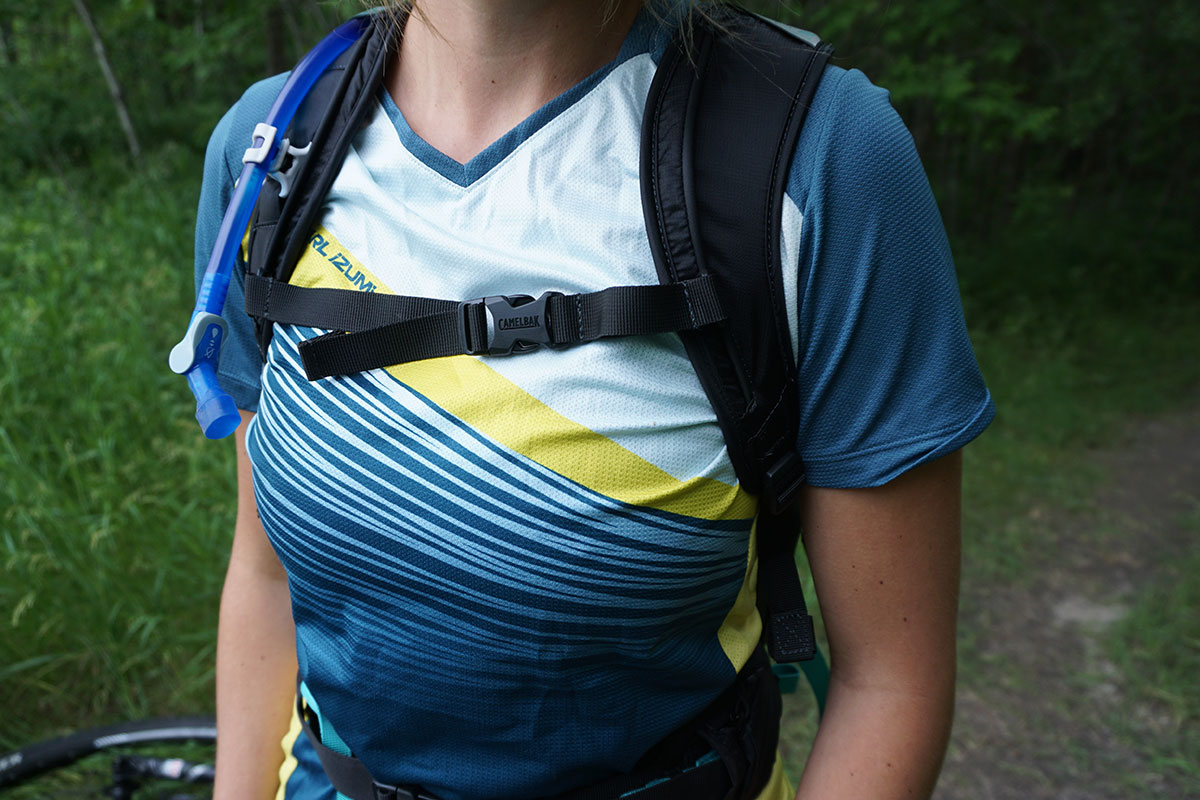 This review wouldn't be complete without mentioning a couple of notable features that I've not had in a pack before. Remember that part about me not being a very good mountain biker? Well, I usually can't drink water while I'm riding because I can't focus on riding, try and get the hose into my mouth, and open the valve, all while trying to stay up right. I've almost crashed a couple of times trying to get water and so I've learned to just wait until I stop. The magnetic tube trap really eliminates the hassle and has made it so much easier to drink while riding. That, in combination with the new Crux LR reservoir on/off lever makes drinking easier than it's ever been.
No matter what type of ride you're embarking on, the women's L.U.X.E. LR 14 will hold everything you need all while staying stable on your back. The hip belt will help carry the load so at the end of the day your back isn't aching. You'll stay organized throughout the day so none of your snacks go unnoticed and should you need your tools, they'll all be in one easy to reach spot. If you're looking for a comfortable hydration pack, the L.U.X.E. LR 14 is sure to impress you.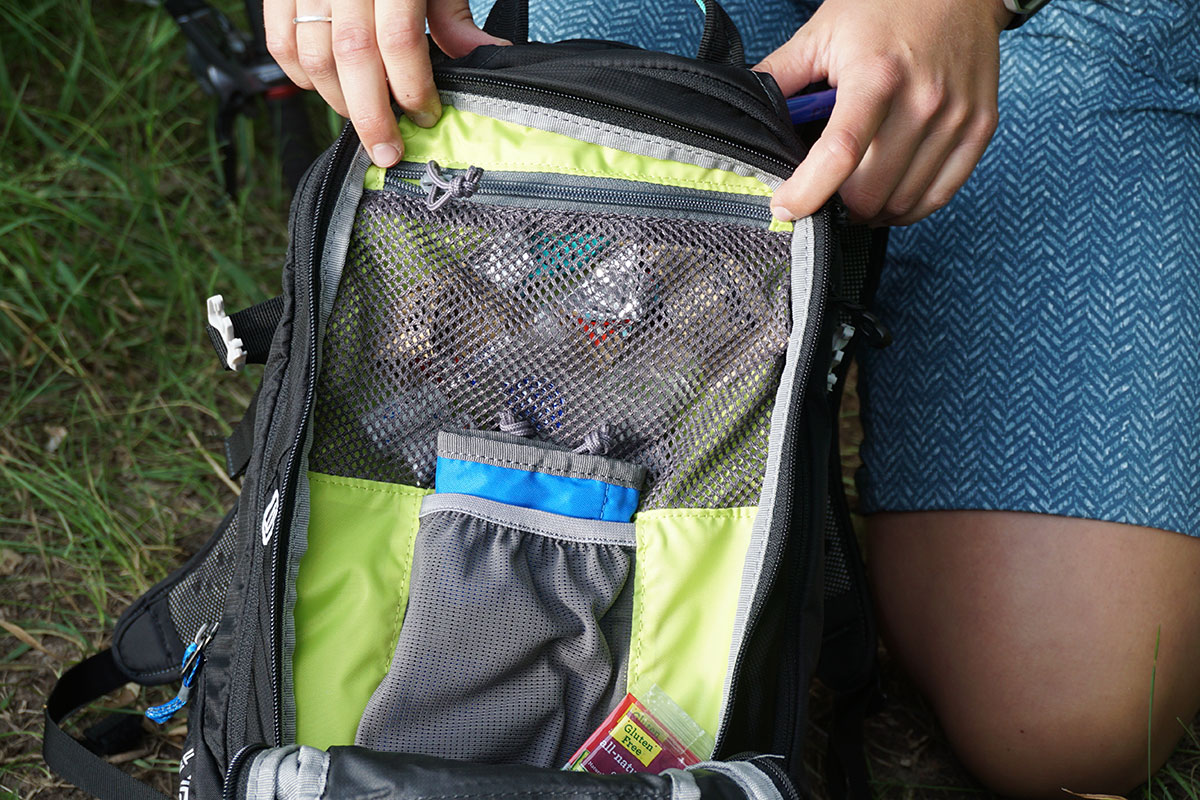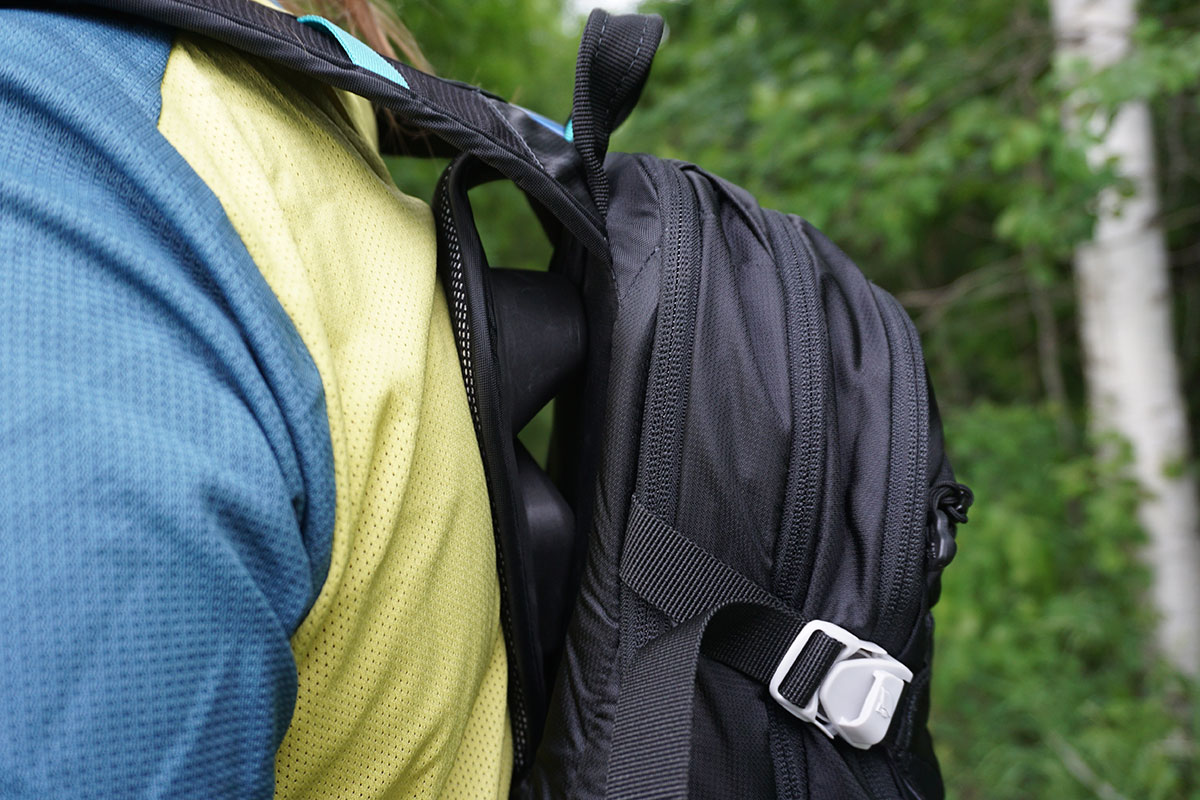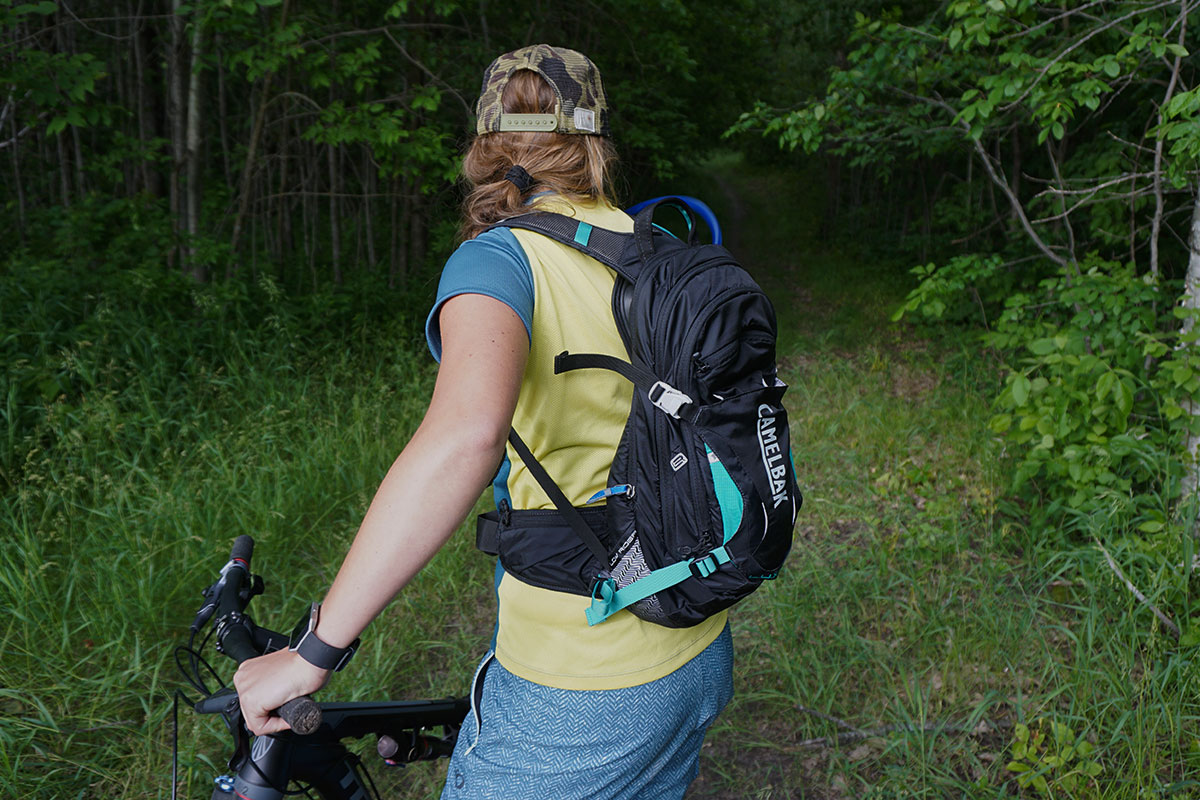 Pros
Very easy to stay organized
Well ventilated straps and back panel
Easy to compress or expand depending on your packing needs
Easy to drink from, easy to fill reservoir
Comes with a tool roll
Cons
Sizing seems off for an average size body
Funky helmet carry system isn't super stable