Whether you're heading out for a weekend car-camping trip or taking an epic camping trip into the backcountry where weight is not a factor (maybe you have a boat or a mule), the Flex 3.0 Sleeping Pad by Lightspeed Outdoors is a must have. While it's not the lightest sleeping pad on the market, it could quite possibly be the most comfortable.
Both Cally and myself are side sleepers and so probably our favorite thing about the Flex 3.0 is the fact that we can comfortably sleep on our side. No more waking up in the middle of the night to a numb hip. With 3 inches of comfort between the ground and my side, night after night I rest comfortably without waking up. The combination of air and foam not only allows for extreme comfort, it also allows you to customize the firmness a bit. I really enjoy a firm sleep surfaces so I add in a few extra puffs of air before closing the valves. If you like it soft, just let the pad self-inflate and then close the valves for a softer night of sleep.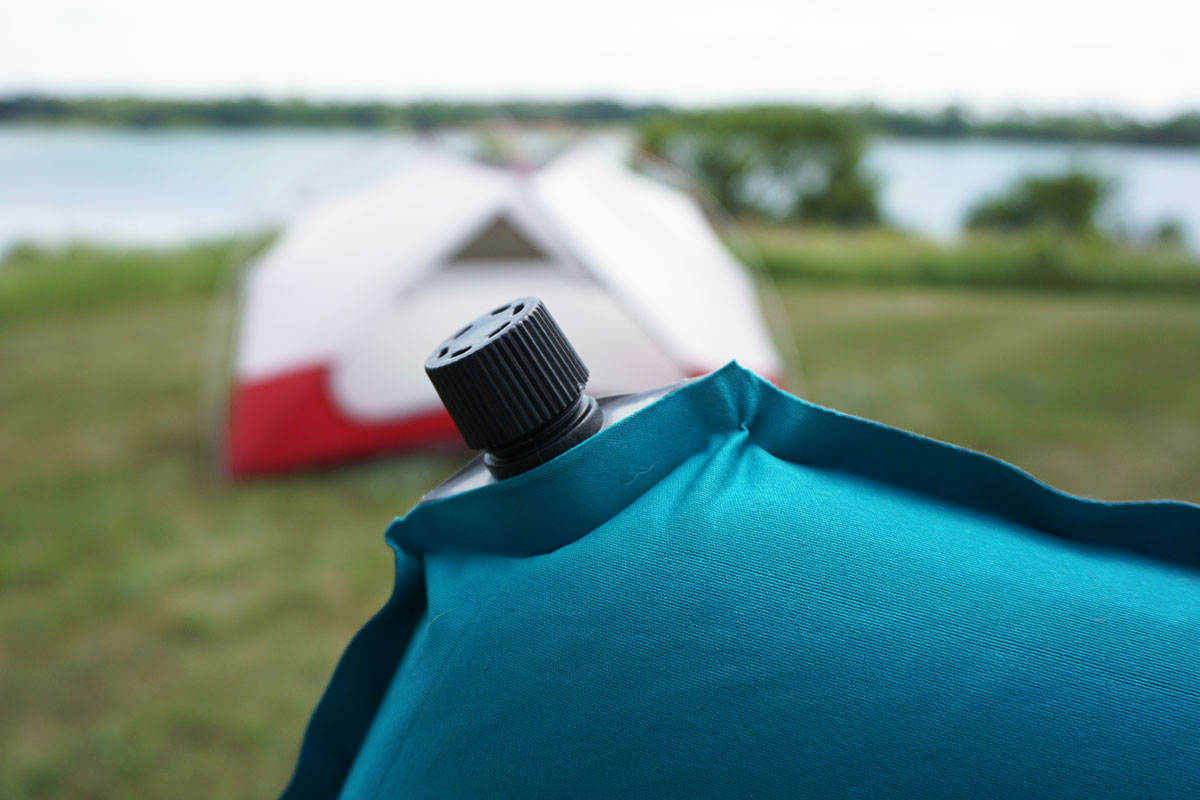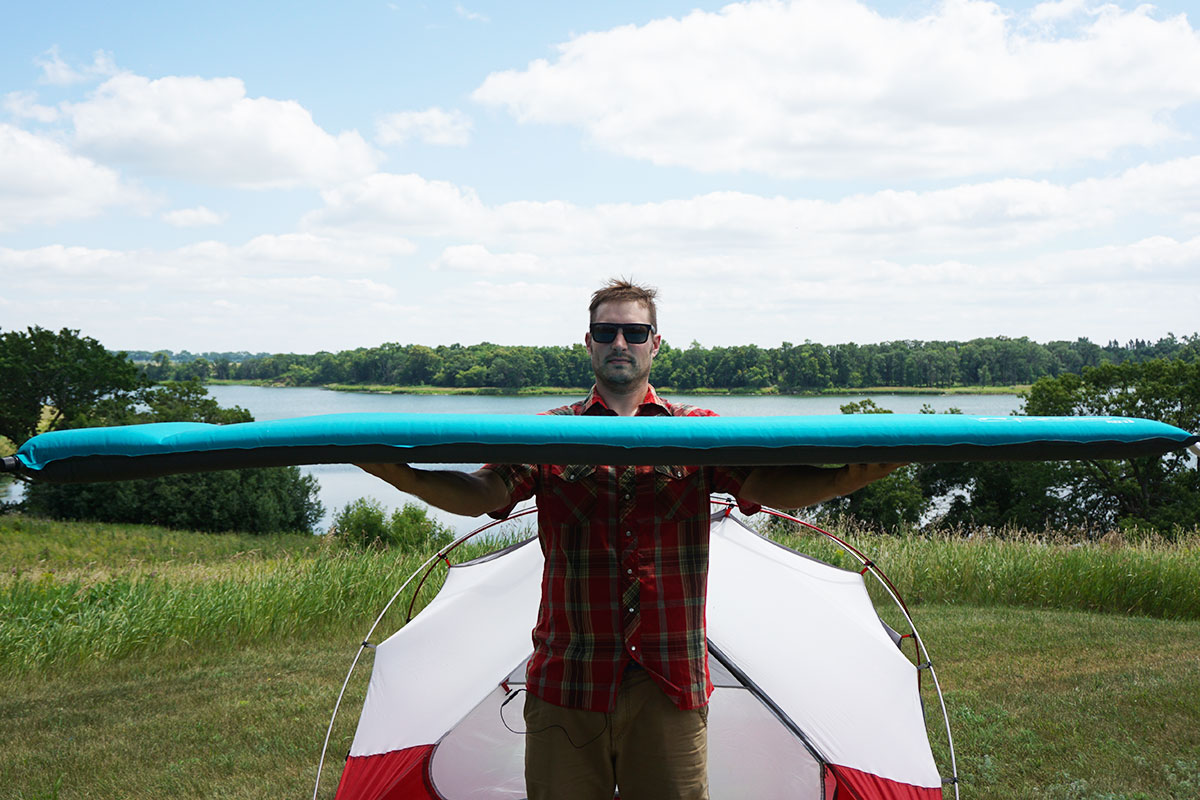 The Flex 3.0 is a really fast self-inflating set up. When setting up camp, I will throw the pad down in the tent and with the valves open, let it inflate while I get dinner ready or organize camp. It definitely does not need this long to inflate, however it is easy to just let it set itself up while you do other activities. Before crawling into bed, I just make sure my valves are closed and it is ready for all night comfort. We've used other sleeping pads in the past that claim they are self-inflating but hardly do so. With this pad, that is not the case. You can literally watch the pad inflate itself knowing that you will have to do little work to get it inflated.
Another really cool feature on the Flex 3.0 is the integrated pillow. While it probably wouldn't replace your camp pillow, it is nice to have a little bit of extra rise. Most camp pillows don't offer the same support as a pillow from home so adding extra support makes it the ideal situation.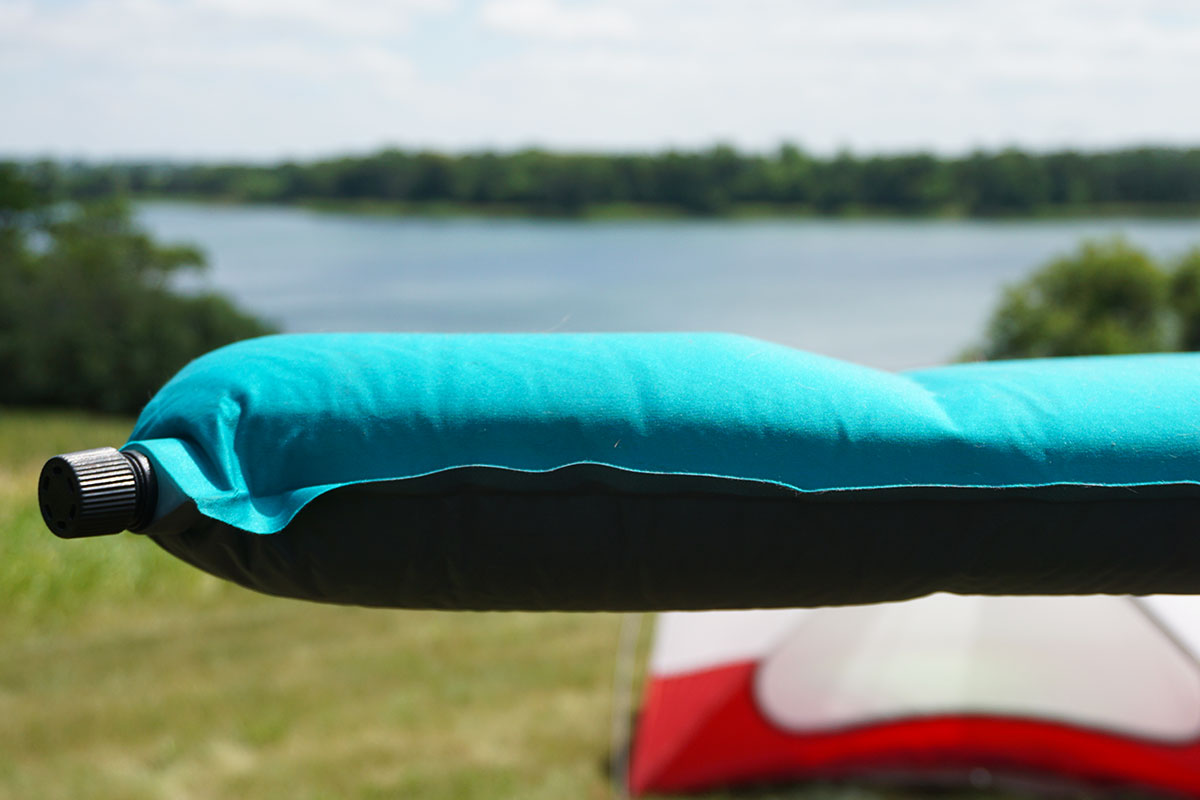 The fabric used on the upper portion of the Flex 3.0 pad is definitely worth highlighting. I am a really hot sleeper so generally if I am camping in temps that are above 50 degrees, I will be out of my sleeping bag within the first 30 minutes of the night. When you end up out of your bag and onto your pad, you will not be disappointed with the Flex. Normally, this situation would cause excess sweating, irritation, and noise. The Flex 3.0, made with FlexForm™ fabric, is soft and comfortable that you can easily sleep directly on top of the pad. The FlexForm™ fabric even forms around your body adding to that comfort factor!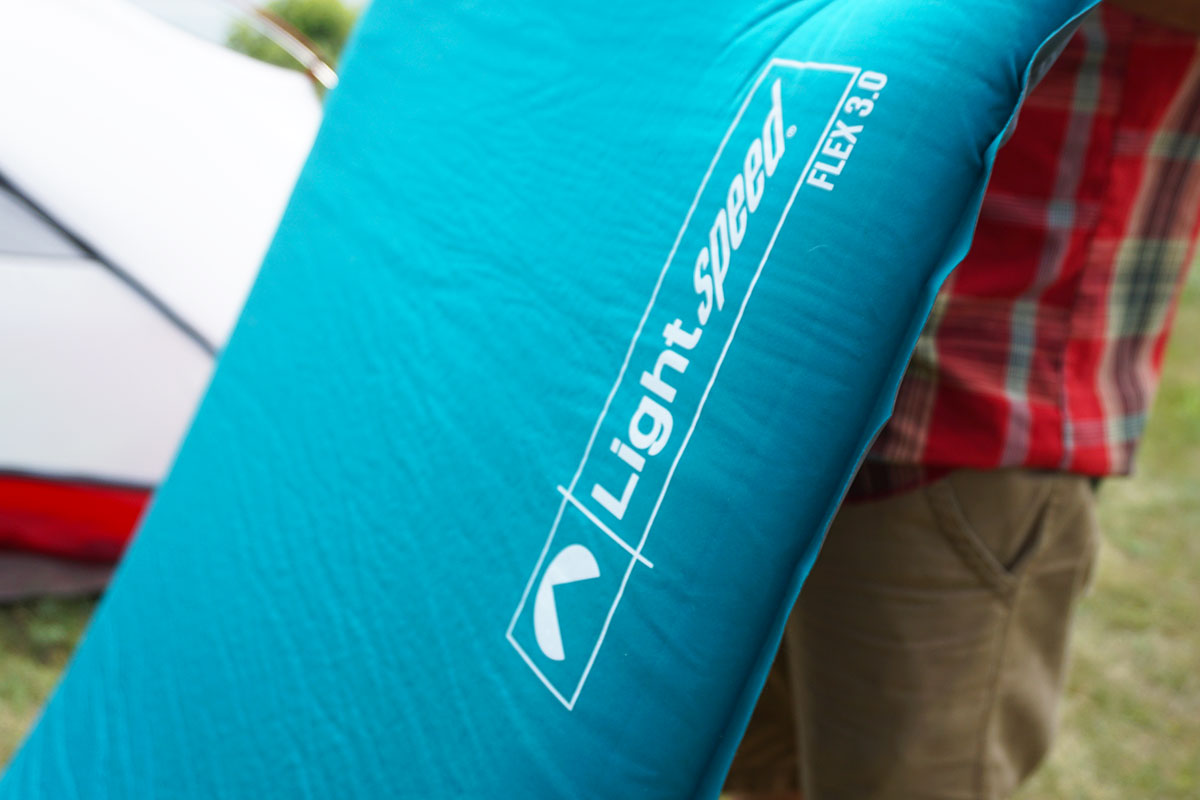 I haven't had an abundance of opportunities of testing out the durability of the bottom of the pad—I'm usually in a tent because…you know…snakes—but I can say that it feels like a durable material that would last many nights to come should you choose to sleep out with the snakes under the stars.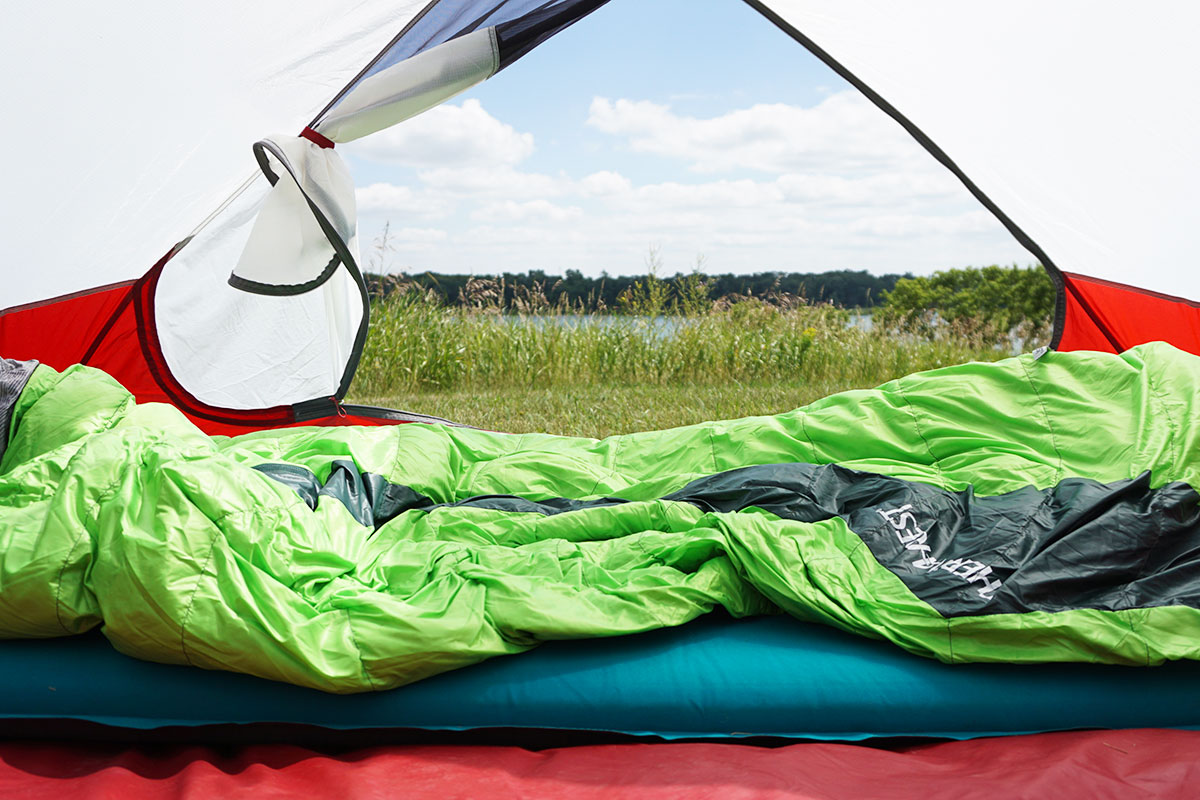 Again, weighing in at just over 6 pounds, this isn't a pad that you are going to hike through the Rocky Mountains with. It is, however, ideal for road trips and car camping and I'm guessing you'll even find yourself pulling it out at home should you run out of beds when you have family in town. It's extremely comfortable, both in the fabric used and the foam insulation support. Especially for the low price, I think this sleeping pad is definitely something that will make you think I wish I had it sooner.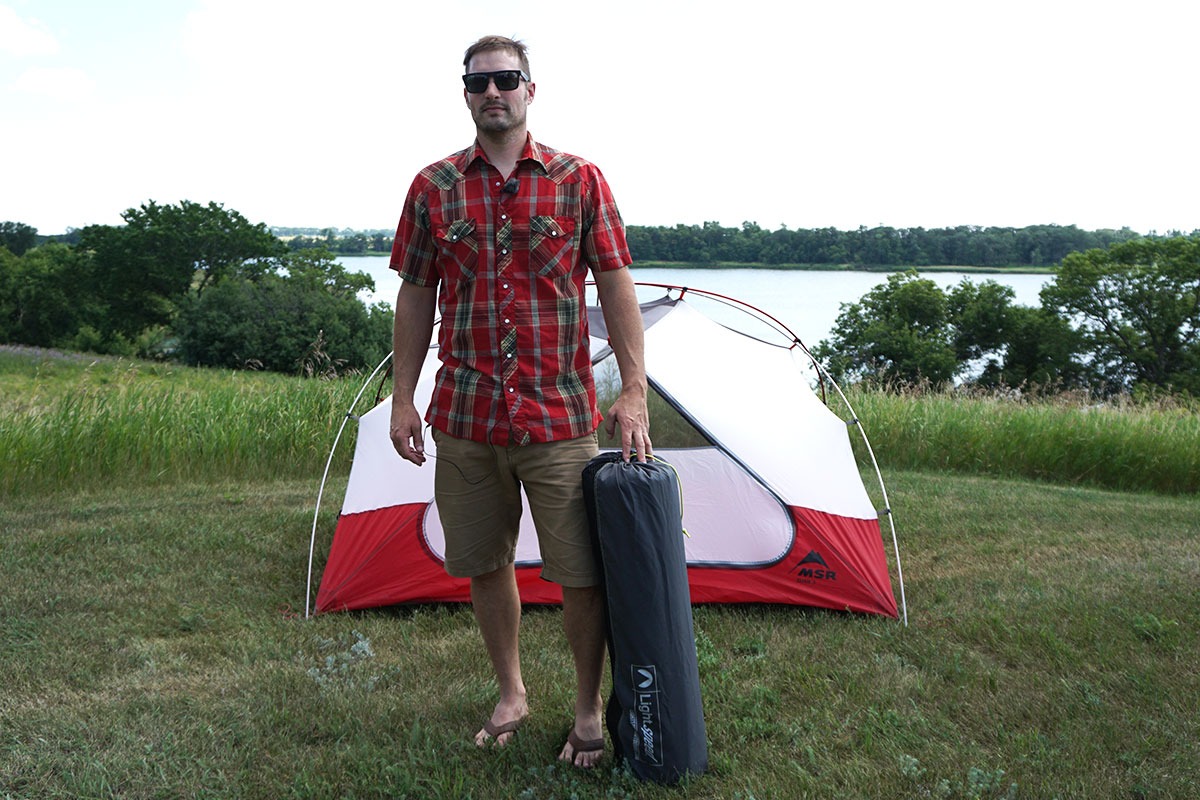 Be sure to check out Lightspeed Outdoors as they have a ton outdoor adventure gear including products like an inflatable dog bed (yes, Hank loves it) and shelters to protect you from the sun.
Flex 3.0 Sleeping Pad
$89.99
Pros
Self-inflating and really does self-inflate!
Extremely comfortable
Built-in mini pillow (I'm calling it a mini pillow because it is only a slight rise although still helpful)
3 inches of insulation adds to both comfort and warmth
Is the perfect car camping sleeping pad
Cons
While I understand this is not a pad to compete with the light and tight sleeping pad market, it is still pretty large when rolled up. This could get frustrating trying to pack in a car full of camping gear, or into your one gear closet at home (only a one point deduction b/c that is not the intention of this product)